Use the following links to jump down to your area of interest:

Active Electronics:
---
"OBP-1" Two band, broad shelving +18 dB at 40 Hz and 4 KHz. Dimensions: 0.5" x 1.4" x 2.25"

Alex Aguilar's two band on-board preamp sounds great and is very quiet. It a boost-only circuit, starting from unity gain. It's design is reminisant of the old Sadowski preamp.The 18 dB of boost requires plenty of headroom, 18V is recommended. The circuit can handle 9-48V. The unit is encapsulated in an awkward size case that can make it difficult to retrofit. It comes with separate bass and treble controls however an EMG dual stacked volume pot can be used if stacked controls are desired.
---
Bartolini: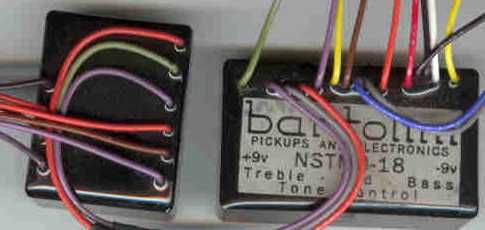 "NS2TMB-183", 18 Volts. Bass; +/-14 dB at 30Hz. Treble: +/- 16dB at 10KHz. Mid: +/- 10 dB at 250/500/800Hz switchable, other mid frequency selections from 250Hz to 1500Hz can be chosen using different capacitors on the outboard switch. Needs two 9V batteries to operate. Dimensions are: (main module) 0.6" x 1" x 2", (NTMB3 module) 0.6" x 1" x 1.3"

This is Bill Bartolini's latest and most refined design. It is quieter and more transparent than anything else out there (108 dB S/N, THD .003% @ 100Hz) and really sounds good. To quote from the spec sheet "The (bipolar) +9V/ -9V system allows a completely DC coupled signal path. There are no capacitors to diminish in any way the low end punch, clarity and frequency response of the instrument". Bill has used wide bands that overlap slightly to avoid the honky sound of other midrange controls. The 250Hz mid could be useful as a cut option when recording. Includes a gain trimmer to match output with your other axes. There are several things to be aware of, the controls are passive without separate gain stages, there is some interaction between them (ie when you boost the low the mid gets boosted a bit as well.) The circuit is flat well into the subsonic range so that you may find your speaker excursion wasting much of your amp's power unless you filter out below 30Hz. The circuit shifts phase by 180 degrees which simplifies active/passive switching using a push pull pot. there is a tiny offset voltage with the bass boosted which always gives a "Thunk" when you switch between active and passive unless you turn things down first.
---
"BTC" (Bass and treble on concentric knobs with switchable treble shelving). Dimensions: 0.3" x 1" x 1.05"

I have used dozens of these in basses, they work well, they are easy to install and are reasonably quiet (96 dB S/N). They don't make your bass any better sounding though. The treble shelving is switchable from 2500 Hz to 3500 to 4500 to 8000Hz via two micro switches inside the bass. It's a pretty impractical feature that's hard to evaluate.

"BQC" (Sweepable midrange [300Hz- 3kHz] with concentric sweep and 12 db boost/cut,concentric bass and treble, switchable treble shelving) 9V to 27 volts. I recommend 18V power for all EMG stuff. Dimensions: 0.95" x 1" x 2.3"
Cool but unacceptably noisy, the mid band is a bit too narrow to be useful except as an effect on fretless. You can make wah-wah sounds with your free hand...
---
"U-RETRO" Britain's John East has designed a state-of-the-art 3 band EQ system with a sweepable mid, dual input buffers and adjustable gain from 1 to 12 dB for each pickup. Includes stacked volume and blend controls (blend only works in active mode). Asymetrical treble control with center detent; (+12dB @ 3kHz, -12dB @ 1kHz ) which can be pulled up for "bright"; (+8dB @ 7kHz) stacked with boost only bass control; (+15dB @ 50Hz). Mid control; (+/- 12dB) indent at "flat" setting, stacked with frequency control; (150Hz-3KHz). Also includes active/passive switch and pickup selector switch for passive mode (switches between rear pickup and both pickups together). Uses custom plastic element pots, 3 ICs and compact, low noise components on a single epoxy insulated board. 18V power. Dimensions: 0.4" x 1.3" x 2.75"
Very cool but still quite noisy. It colors the sound -treble gets muted, -bass is bigger and tighter. John is redesigning the circuit to improve the noise ratio and flatten out the response. Oh, also the most expensive unit I know of at $250
---
"2 AC" Variable10 dB boost with dual buffer, battery check light, 9V supply, 3 band eq insert point). Dimensions: 0.5" x 1" x 2.25"

The latest design with ultra quiet, audiophile chip and trimmers for each channel allows you to set boost independantly. Until WAM starts production of his 3 band EQ section, this unit is probably superfluous unless you need a buffered blend and variable boost
---
(Concentric bass and treble with center detents, 18dB boost, 6dB cut, switchable mid boost.). Dimensions: 0.5" x .6" x 2.6"

I have had this circuit in my bass since the mid-eighties and it is different from most others in that the shelves are wider and the slopes flatter. I like it because it really does something without messing up the volume balance between the strings, when you boost the bass you're boosting everything between 20Hz and 300Hz instead of say 40Hz to 60Hz as in many circuits. If I need to fine-tune my sound I'd rather do it on my amp anyway. Hand soldered with high grade, discrete, components using only 2 transistors so noise should be minimal though I have experienced some RF interference. The circuit can be powered with 9V to 48V, I use 18V.
---
I like these now, they work well, The lows are frightening, (MM lows are probably too low). They have a push/pull volume switch that activates a "slap contour" which you preset inside the bass, giving you two distinct sounds. The noise floor is low at -85dB according to the specifications. The bands are narrow and preset; bass is centered at 30Hz (25Hz on the Music Man model), mid is 675Hz and treble is up at 6800Hz. The rather large circuit board uses SMT components and bulky, plug-in connectors to make it a tricky retrofit (the Music Man version is smaller). Can not easily be by-passed as you would need to add a passive volume pot. Runs on 9-18V.


2 band EQ, 3 band EQ. Dimensions: 0.7" x 1.5" x 2.5"
MusicMan 3 Band EQ. Dimensions: 0.7 x 1" x 2.5
---
This is the BGRA
This feature article is © 2001 by David King
Reprinted by the BGRA with permission
Click here for more on David King